2023 Upstate Prowl & Growl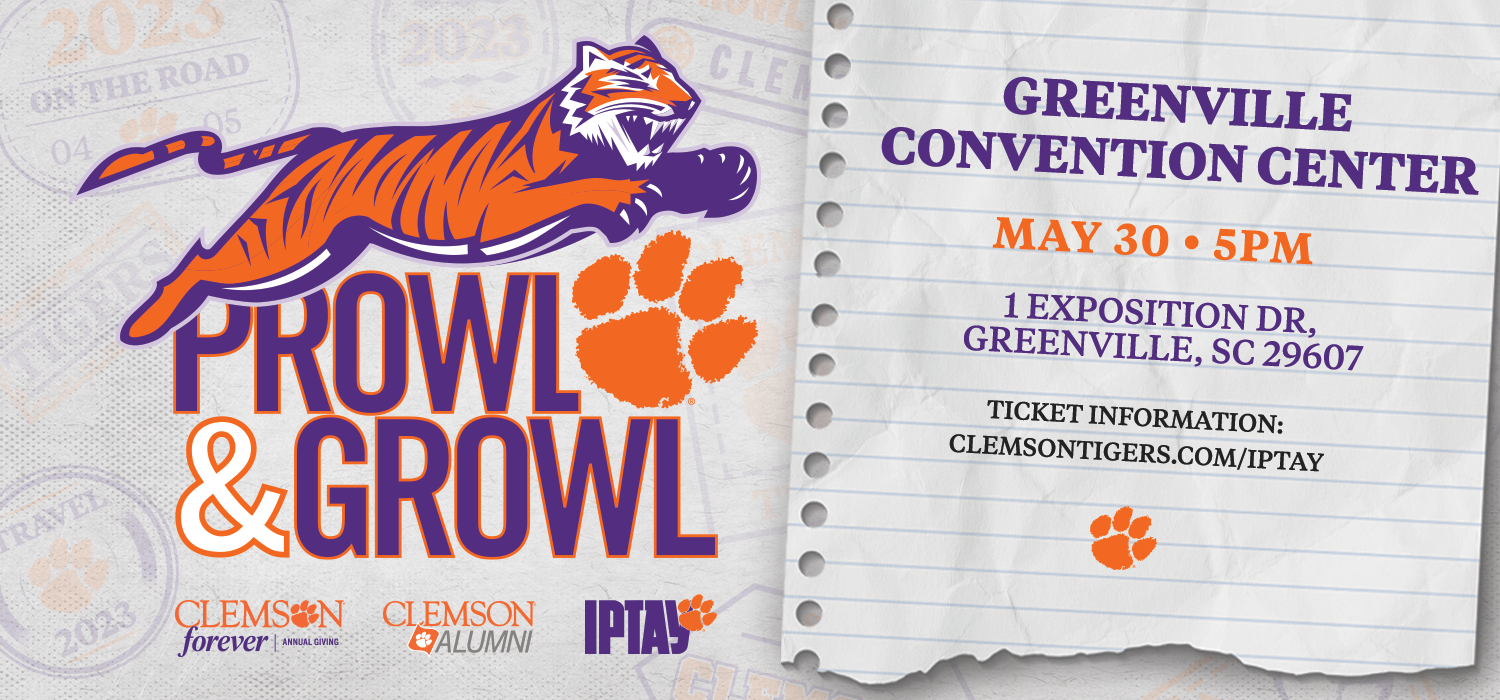 Join us on May 30 in the Upstate!
The annual Prowl & Growl tour travels to communities across the region to update the Clemson Family on the latest Clemson news. The Prowl & Growl tour is a joint effort between the Clemson Alumni Association, Clemson Forever Fund and IPTAY. This tour will bring Clemson University, athletic officials and coaches to the Upstate area!
A special thank you to the Upstate area Clemson Clubs for their support of this event. You can find additional details about Upstate South Carolina Clemson Clubs, their initiatives and events here.
A portion of all ticket proceeds goes back to Clemson to help with Alumni Participation and provide valuable scholarship dollars for your local Clemson students.
The ticket reservation deadline has passed for the Upstate Prowl & Growl. Tickets are no longer available for sale.
Date: May 30, 2023
Location: Greenville Convention Center (1 Exposition Dr, Greenville, SC 29607)
Doors Open: 5pm
Scheduled Coaches & Administrators: Dabo Swinney, Brad Brownell, Graham Neff, Amanda Butler, Allison Kwolek, Amy Smith and Jackie Simpson Kirr (In the event of an unexpected conflict coaches and administrators in attendance could change.) 
Coaches Photo Availability: Ends at 6:15pm
Program Starts: Approximately 6:15pm
Ticket Cost: $20 Adult – $10 Children (3-10) – Free (children 2 and under)
If you are interested in purchasing a reserved table in support of the Greenville or Spartanburg Clemson Clubs, please contact their local leadership via the email address show below. Reserved tables at the Upstate Prowl & Growl include eight tickets and are $325 per table. A printed sign with your table/business name will be placed on your table. 
Menu: Southwest Wrap, Smoked Turkey & Bacon Wrap with Pimento Cheese or Roasted Vegetable Wrap; with Mediterranean Orzo Pasta Salad, Potato Chips, Fresh Baked Cookies, Sweet Tea, Unsweet Tea, Water and a Cash Bar.
The evening will be fun for all ages and will include the following:
Photos With Coaches – Back by popular demand, attendees can take their photo with the athletic coaches in attendance. 2023 tour coaches and administrators include Dabo Swinney, Brad Brownell, Graham Neff and Garrett Riley. Scheduled coaches vary by location and can be seen above.
Giveaways – The Clemson Alumni Association, the Clemson Forever Fund, and IPTAY will be on hand with giveaways and information to learn more about their organizations.
Re-Live Clemson Traditions: Participate in a time-honored Clemson tradition – the Clemson Homecoming float build! You'll be able to help pomp a piece of a float that will be used during this year's Clemson Homecoming celebration!
Mannequin Zone – Mannequins representing each of our 21 varsity programs will be on display, showcasing the latest gear in their program.
Trophy Tour – Ten trophies will be on display from some of the greatest athletic moments in the history of Tiger athletics.
Cub Corner – Two inflatable games will highlight the Cub Corner, which will also include coloring, crayons, pencils, Tiger Paw temporary tattoos and more!
Photo Booth – Take your picture with Clemson themed backdrop and props that will include athletic equipment and gear from your favorite Tiger teams.
Tailgate Games – Cornhole, Giant Jenga, Connect 4, etc.
Program – The program will include updates from University and Athletic administrators and time with the coaches in attendance hearing about their programs led by Don Munson.
Cash Bar
And More!