ISAB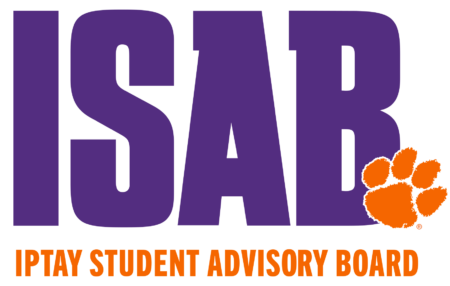 IPTAY Student Advisory Board (ISAB)
There are many ways to get involved here at Clemson, but if you love college athletics, there is no better way to be All-In than to serve on the IPTAY Student Advisory Board (ISAB). IPTAY is Clemson's athletic booster club and is one of the oldest in the country. Since 1934, IPTAY has provided millions of dollars in scholarships for student-athletes and non-athletes alike. It also has provided substantial support for programs and facilities that help Clemson athletics stay among the best in collegiate sports. There are more than 17,000 active members of IPTAY across the country who give their time and money to support Clemson Athletics. In addition, there are more than 8,000 students here at Clemson who are proud IPTAY Collegiate Club members! And if you have ever followed Clemson sports, you know Clemson fans are passionate about their Tigers!
The IPTAY Student Advisory Board is made up of a select group of current Clemson students who serve as liaisons between the student body and IPTAY. ISAB enables IPTAY to connect with the students on campus to better educate the general student body on the organization's mission to support Clemson student-athletes. ISAB is a fun and exciting way to support your Clemson Tigers, make new friends on campus and be an active part of Tiger athletics! ISAB initiatives include building the IPTAY Collegiate Club brand, growing the membership base and promoting the Solid Orange message on campus.
As a member of ISAB, opportunities exist to assist with IPTAY and athletic department events throughout the year that are both mandatory and voluntary in nature, including:
ISAB Involvement
Welcome Back Festival participation and Collegiate Club Membership Drive
IPTAY/Collegiate Club Punt, Pass and Kick competition
Lunch In Littlejohn
Block C Club Events
Tiger Cub Club Events
IPTAY Days at Clemson Athletic Events
IPTAY Special Events
Summer Orientation
Special Clemson Athletic Department Initiatives
Solid Orange Fridays
Applications For 2022-2023
Applications for 2022-2023 are now OPEN. Applications will be accessible here and on our homepage.
Application Process
IPTAY Student Advisory Board members serve as student ambassadors for IPTAY. Because there are a limited number of new openings to serve on the IPTAY Student Advisory Board each year, it is required that all interested students complete the online application process. All students who are invited to serve on the board must commit to the expectations noted below. We invite all interested students to apply for the IPTAY Student Advisory Board.
Board Member Expectations
Positively embody the mission and vision of IPTAY and its donors at athletics events around campus, in the community-at-large
Attendance all board meetings held at the McCarter Family IPTAY Center
Participation in required and voluntary events throughout the fall and spring semesters
Play an active role in his/her committee assignment
Annual Application Timeline
Application Requirements
Current member of the IPTAY Collegiate Club
Must be a rising sophomore or older
Cumulative GPA of 2.5 or higher
Letter of recommendation
ISAB Committees
As a member of ISAB, in addition to other duties, you will serve on one of the following committees:
Events
The role of the events committee is to assist in the brainstorming, planning, and execution of Collegiate Club member-only (external) events as well as executing ISAB member-only (internal) events.
External Collegiate Club member-only events in the past include:

IPTAY Collegiate Club Punt Pass Kick Event
Spring Tailgate Event
Athletic Facility Open House Events
Marketing
ORANGE: The Experience is IPTAY's flagship magazine published eight times annually for priority IPTAY donors at the Purple ($180) level and above. The marketing & communication committee is responsible for providing content for one page of this magazine per issue. Content may include original stories, interviews, member biographies, event recaps etc.
This committee is also responsible for marketing all aspects of the IPTAY Student Advisory Board through both print and digital mediums. Expectations include working with Social Media committee to create a per semester plan that incorporates scheduled tweets, social media graphics and announcements.
The marketing committee works hand in hand with other committee chairs to help drive awareness of their particular project or agenda.
Solid Orange
The Solid Orange trend first began in 2002 with the Solid Orange: It's About Pride Campaign, which sought to re-invigorate the sense of family and tradition on Clemson's campus. ISAB is a critical part of that campaign by continuing to promote that message today.
The Solid Orange committee is expected to find creative ways to promote and encourage school spirit for athletics with the intention that there is no better way to support the Tigers than by being a member of IPTAY.
This committee is required to have a presence on campus on Friday's throughout the fall and spring semesters.
This committee will organize ISAB/Solid Orange group outings to Clemson Olympic sports.
Social Media
This committee is responsible for utilizing IPTAYCC social media outlets to post promotional ideas, event details, etc. to help promote the IPTAY Collegiate Club.
This committee will be charged with posting both planned marketing materials and social posts as well as creating unique content to be posted on outlets such as Instagram stories (example – Instagram live during Punt Pass Kick or Solid Orange Friday events.
Questions?
Can't find the information you're looking for or have a question about the application process? Reach out to one of the current ISAB advisors by clicking HERE.
Kelly Geiger
Position: Director of Collegiate and Pre-Collegiate Programs
ISAB Advisor: 2019-Present
Ashby Burton
Position: Assistant Director of IPTAY Marketing & Communication
ISAB Advisor: 2019-Present


ISAB Conference Room Campaign
Since 1984, the IPTAY Student Advisory Board has been serving as the liaison between IPTAY and the Clemson University student body. ISAB enables IPTAY to connect with students on campus to better educate the general student body on the organization's mission to support Clemson student-athletes.
If you are a former member of ISAB we want you to know about our initiative to name a space in the new IPTAY Center! It is our goal to raise $150,000 to name a conference room in this new facility which opened in December 2019!  The new facility is the front door of Clemson athletics and provides state-of-the-art space for ISAB and the IPTAY staff to work to provide the very best for Clemson student-athletes.
Below you will see the incentive program including the opportunity to have your name included on the formal recognition within the named space has been laid out for your review. It is important to note that any gift can be paid over a five-year period. In addition, donations of any size are eligible to enroll in a monthly draft. We are excited to have these offerings to both thank you for your support and an opportunity to gear up on your ISAB swag! If you have any questions, please reach out to a member of our team with the contact information provided below. Also, we would like to thank those who have already contributed to this campaign. Go Tigers!
ISAB Campaign Giving Levels
| Level: | $1-$99.99 | $100-$249.99 | $250-$499.99 | $500-$999.99 | $1,000-$2,499.99 | $2,500.00-$4,999.99 | $5,000.00+ |
| --- | --- | --- | --- | --- | --- | --- | --- |
| ISAB Decal | | | | | | | |
| T-Shirt | | | | | | | |
| Notebook | | | | | | | |
| Set of Tumblers | | | | | | | |
| Name Included in Building Recognition | | | | | | | |
| Nike Hat | | | | | | | |
| Team Issued Gift | | | | | | | |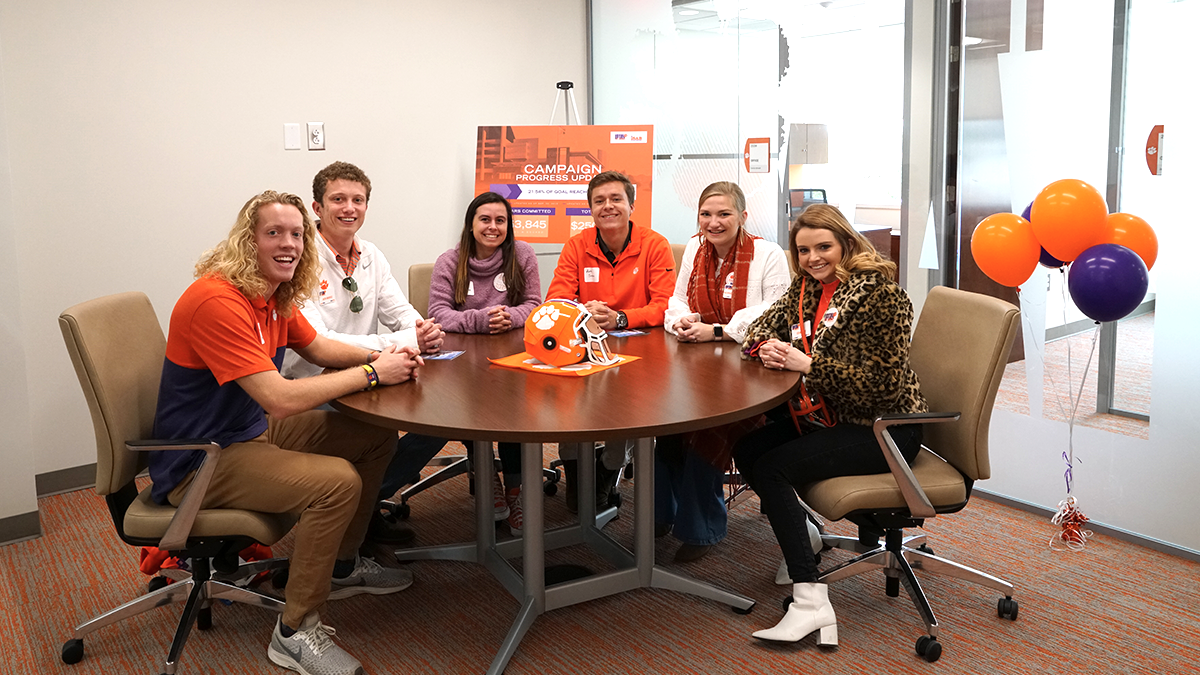 ISAB Campaign Giving Over Five Years
| Gift | Annual Payments | Quarterly Payments | Monthly Payments |
| --- | --- | --- | --- |
| $100 | $20.00 | $5.00 | $1.60 |
| $500 | $100.00 | $25.00 | $8.30 |
| $1,000 | $200.00 | $50.00 | $16.66 |
| $2,500 | $500.00 | $125.00 | $41.66 |
| $5,000 | $1,000.00 | $250.00 | $83.33 |
Questions About The ISAB Campaign? Please Reach Out!
Lauren Gaulin
Position: Associate Director of IPTAY Major Gifts
ISAB Advisor: 2016-2019
Lindsey Leonard
Position: Assistant Director of IPTAY
ISAB Advisor: 2007-2013