McWhorter Family Pledges Cornerstone Gift, Names Softball Stadium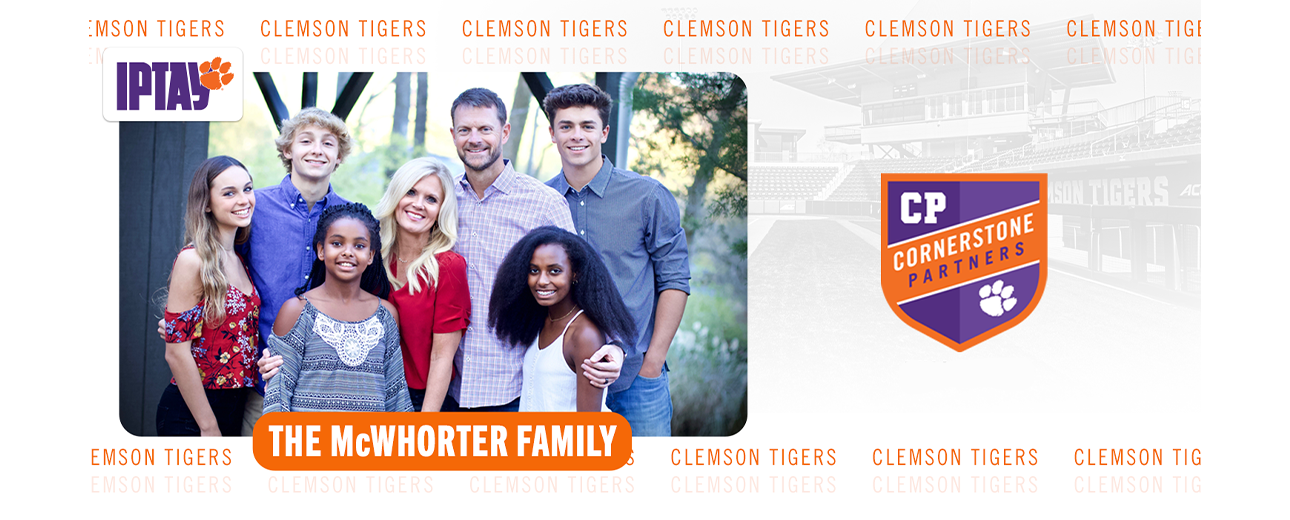 McWhorter Family Pledges Cornerstone Gift, Names Softball Stadium
CLEMSON, S.C. – With a strong sense of dedication and commitment to the future of athletics at Clemson University, Stuart McWhorter '91 and Leigh Anne Hendrix McWhorter, of Nashville, Tenn., have pledged a Cornerstone Partner Gift of $2.5 million to IPTAY and Clemson Athletics. The gift supports the softball program, and in recognition of their outstanding generosity, the softball stadium will be named in their honor.
"We are so grateful to Stuart, Leigh Anne and their entire family for their generous commitment to Clemson Athletics and the softball program," said President Jim Clements. "We are excited about the direction of the program and are thankful to the McWhorters for becoming Cornerstone Partners and being such a significant part of the foundation of softball at Clemson."
After years of planning, the softball program played its inaugural season in 2020, joining Clemson's elite sports programs. This impactful gift from the McWhorter family ensures Clemson's softball program will maintain its strong momentum with a level of success that matches the University's other winning programs and competitors in the Atlantic Coast Conference.
"My father taught me the meaning of giving back and paying it forward at an early age. As a result of my experience as a student and today as an alumnus, I want to meaningfully continue my support. Leigh Anne and I are thrilled to support Clemson and in particular, Clemson softball," says Stuart McWhorter.
Leigh Anne McWhorter adds, "This is the opportunity to give these young women the chance to participate in the sport and grow from lessons they learn far beyond the field of play. We have three daughters, and my hope is that they too will have the same opportunities, whether that's through sports or other life experiences."
In its first season, the softball program averaged 1,544 fans per game, ranking first in the ACC and fifth nationally. The Tigers finished 19-8 and 5-1 in ACC play in the abbreviated 2020 season.
"We have the utmost sense of gratitude, pride and appreciation for the opportunity to come to work, practice and play in a facility as nice as ours each and every day. Our facility demonstrates the high level of support and resources that IPTAY and the McWhorter family have provided our young program," said Clemson softball head coach John Rittman. "Our first-class facility gives our student-athletes, coaches and support staff all of the tools necessary to be successful. On behalf of our players and staff, we are truly appreciative of all of the generous IPTAY members who have donated their time and money in order for us to be able to call this facility our home."
Stuart was the official Clemson Tiger mascot while a student from 1987 to 1990. This, along with a passion and strong desire to give back, inspired Stuart and Leigh Anne to previously support the Tiger Pride Campaign by funding the bronze Tiger located at Gate 1 of Memorial Stadium.
They have also given generously throughout the years to initiatives across IPTAY and academics, including making the first pledge in support of the Entrepreneurial Leadership Enhancement Fund.

Stuart and Leigh Anne are distinguished members of Clemson's Cumulative Giving Society and the President's Leadership Circle. Stuart was a founding member of the Leadership Committee for Clemson University's 10-year capital campaign, The Will to Lead, and he served on the Athletics Tiger Pride Capital Campaign Cabinet.
Stuart was previously a member of the Clemson University Foundation Board, and he and Leigh Anne are members of the Founder Society for the Arthur M. Spiro Institute for Entrepreneurial Leadership.
Stuart received a Bachelor of Science in management from Clemson and a master's in health administration from The University of Alabama-Birmingham. Stuart and Leigh Anne live in Nashville, Tenn. with their five children: Clayton, a freshman at Clemson, Thomas, Caroline, Marleigh and Layla.
Stuart, a 1991 Clemson graduate with an entrepreneurial spirit, is the co-founder and chairman at Clayton Associates, a venture investment firm, with more than 25 years of experience in entrepreneurship and early-stage investing. He recently served as the commissioner for the Department of Finance and Administration under Tennessee Governor Bill Lee and then as director of Tennessee's COVID-19 Unified Command Group before returning to Clayton Associates in 2021.
Stuart is devoted to his community and has served on several boards, including: Belmont University; Tennessee Business Roundtable; Blood Water Mission; YMCA of Middle Tennessee; Nashville Public Education Foundation; Hospital Hospitality House; St. Luke's Community Center; The Community Foundation of Middle Tennessee; and Nashville's Agenda.
Stuart currently serves as the Chairman of the Board of Directors of Nashville-based, FirstBank Financial Corporation (NYSE:FBK). He also serves as a partner of Outsider.com and Spiny.ai, two digital media and publishing companies in Nashville, Tenn. and London.
Stuart has served as an Executive-in-Residence at Clemson, focusing on the University's entrepreneurship and economic engagement efforts and has taught healthcare, finance and entrepreneurship as an adjunct professor at Belmont University.
Leigh Anne pursued a Bachelor of Science in human learning and behavior from The University of Tennessee, Knoxville in 1993 and then worked for several pharmaceutical manufacturing companies in sales, including GlaxoSmithKline. Leigh Anne is the mother of five and active in the Nashville non-profit community, devoting her time particularly to child welfare and adoption.
The McWhorter family continues to demonstrate a deep commitment to Clemson by giving generously of their time, talent and treasure. Clemson's softball program is preparing for its second season, and thanks to the extraordinary generosity of Stuart and Leigh Anne, McWhorter Stadium will provide Clemson softball with the strong foundation to become an elite Clemson program.
"The McWhorter family has made an incredible impact on Clemson University and Clemson Athletics, and we are delighted to honor them," said Director of Athletics Dan Radakovich. "Our mission to provide an outstanding student-athlete experience is only possible because of the generosity of people like Stuart and Leigh Anne. Clemson Softball is in tremendous position to compete nationally already, and we are excited that McWhorter Stadium will be the centerpiece of our program's future."
With this gift, the McWhorter family becomes the 18th member of the Cornerstone Partner program in Athletics, joining those who have pledged a minimum of $2.5 million to propel Clemson forward in the University's quest to educate and prepare student-athletes who will compete and win at the highest levels.
"I've spent 25 years investing and advising start-ups and other small businesses. I am wired in a way to get ideas and projects off the ground. Clemson softball is much like that. Still in its infancy, the program is comprised of talented coaches, players and staff that are passionate about the team, the sport and this university," says Stuart. "It is one that I want to invest in. It is one that I want to associate our name with."