IPTAY 2023 February 15 Deadline Approaching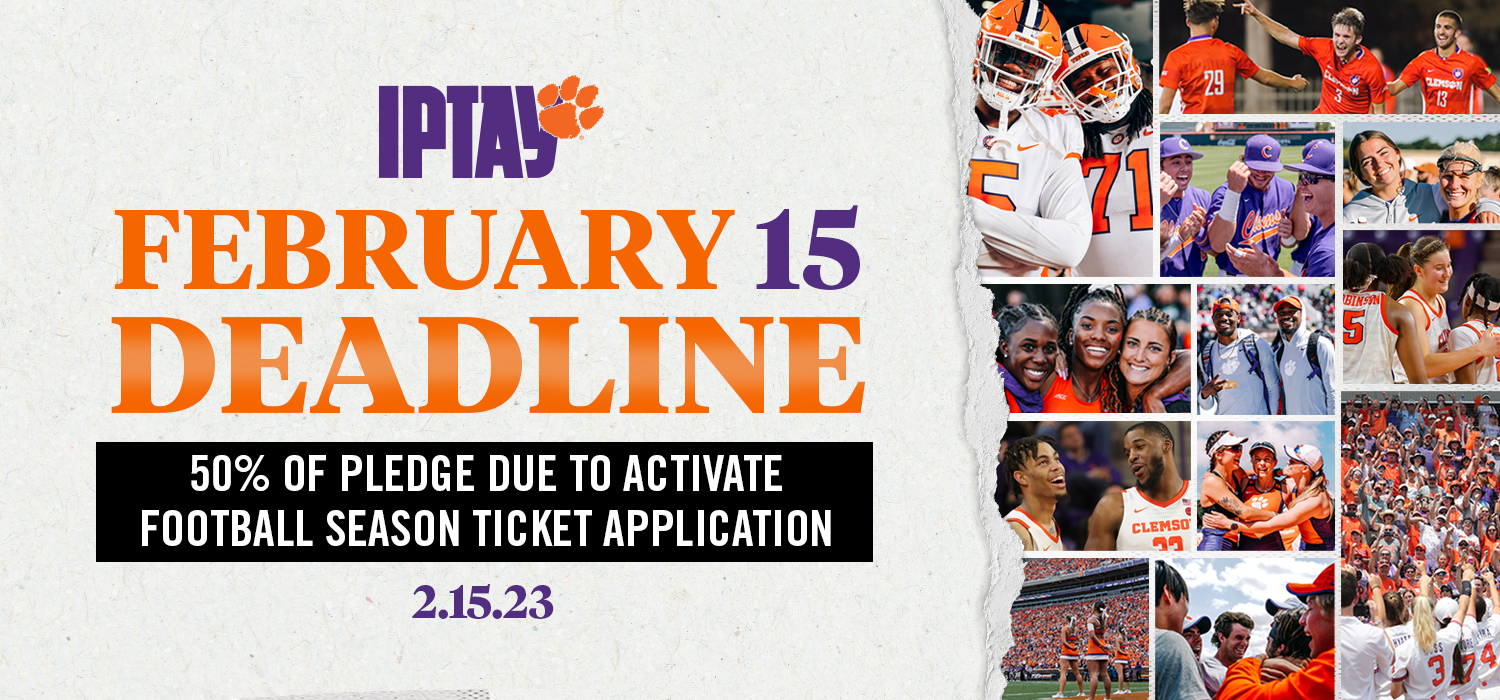 IPTAY 2023 February 15 Deadline Approaching
For the IPTAY 2022 year, more than 18,500 members of the Clemson Family were priority members of IPTAY! The support shown by so many is why our Clemson student-athletes continue to excel at an elite level. This support makes a major impact on the success of the Clemson Tigers. In the classroom and in athletic competition, the accomplishments and accolades of our student-athletes would not be possible without the IPTAY Family – the team behind the team.
IPTAY is the largest revenue producer for Clemson athletics. Our 21-sport program relies heavily upon the support of IPTAY donors to the annual fund. At every level, each gift directly supports the success of more than 500 student-athletes. It is our hope that the support continues to grow for the IPTAY 2023 year.
With the calendar approaching February, we are now only days away from the upcoming IPTAY February 15 deadline. In order to activate your online football ticket and parking application this  spring, 50% of your IPTAY 2023 pledge is due by February 15, 2023.
You can make your IPTAY 2023 pledge and payment several easy ways. You can do so anytime online by clicking HERE, over the phone at 1-800-CLEMSON or coming by the McCarter Family IPTAY Center which is located adjacent to the Winkopp Gate (gate 9) of Memorial Stadium. You can also mail your donation to PO Box 1529, Clemson, SC, 29633. Please note your IPTAY # and giving level on your donation form or check. As a reminder, our office hours are 8:00 a.m. -4:30 p.m. Monday through Friday.
Have questions regarding your IPTAY donation? Please reach out to the McCarter Family IPTAY Center and a member of the team would be happy to assist you. We can be reached by phone at 1-800-CLEMSON, or by email at iptay@clemson.edu. Go Tigers!!