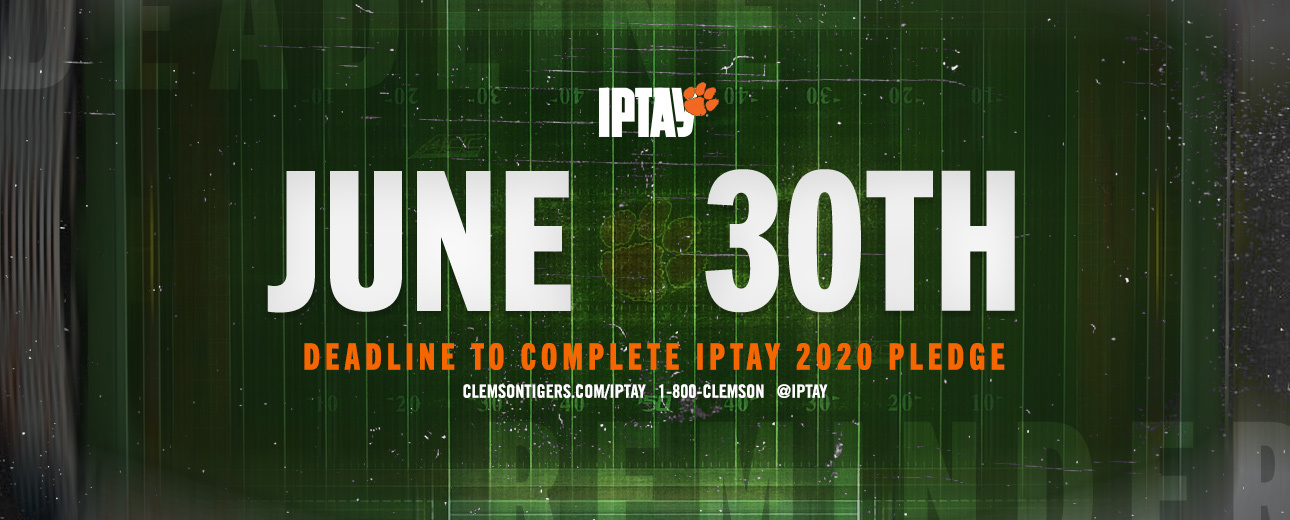 A reminder to all IPTAY donors of the upcoming June 30 deadline. All payments on IPTAY 2020 pledges will need to be made by this date. As a reminder if you have ordered football tickets and parking for the upcoming season, your pledge must be completed to receive these items in late summer.
We are very appreciative of the more than 17,000 donors who have given to IPTAY so far during this 2020 year. The generous support by so many is what makes Clemson truly very special. As you look to complete your donation over the next few weeks you can do so by utilizing one of the following options.
By Phone: To complete your donation over the phone simply call our office at 1-800-CLEMSON or 864-656-2115 and an IPTAY representative will be able to assist you. As a reminder, the IPTAY office is open Monday-Friday 8:00 A.M. – 4:30 P.M.
Online: To complete your pledge online, simply login to your online account by clicking here. Please remember to use your existing IPTAY number.
By Mail: Send us a check or payment information via traditional U.S. Mail. Please be sure to include in your mailer both your IPTAY number as well as note your total pledge amount. All mail can be sent to IPTAY P.O. BOX 1529 Clemson, S.C. 29633.
From all of us here at Clemson, we would like to thank you for your continued support of IPTAY and Clemson student-athletes. Your commitment to the Tigers makes so much possible for our nearly 500 student-athletes who proudly wear the Paw!
If you have any questions, please contact us at 1-800-CLEMSON or at iptay@clemson.edu. Please note that the physical IPTAY Center remains closed at this time due to COVID-19.
Thank you very much for your support of IPTAY and Go Tigers!