From Lake Hartwell to the Pacific Ocean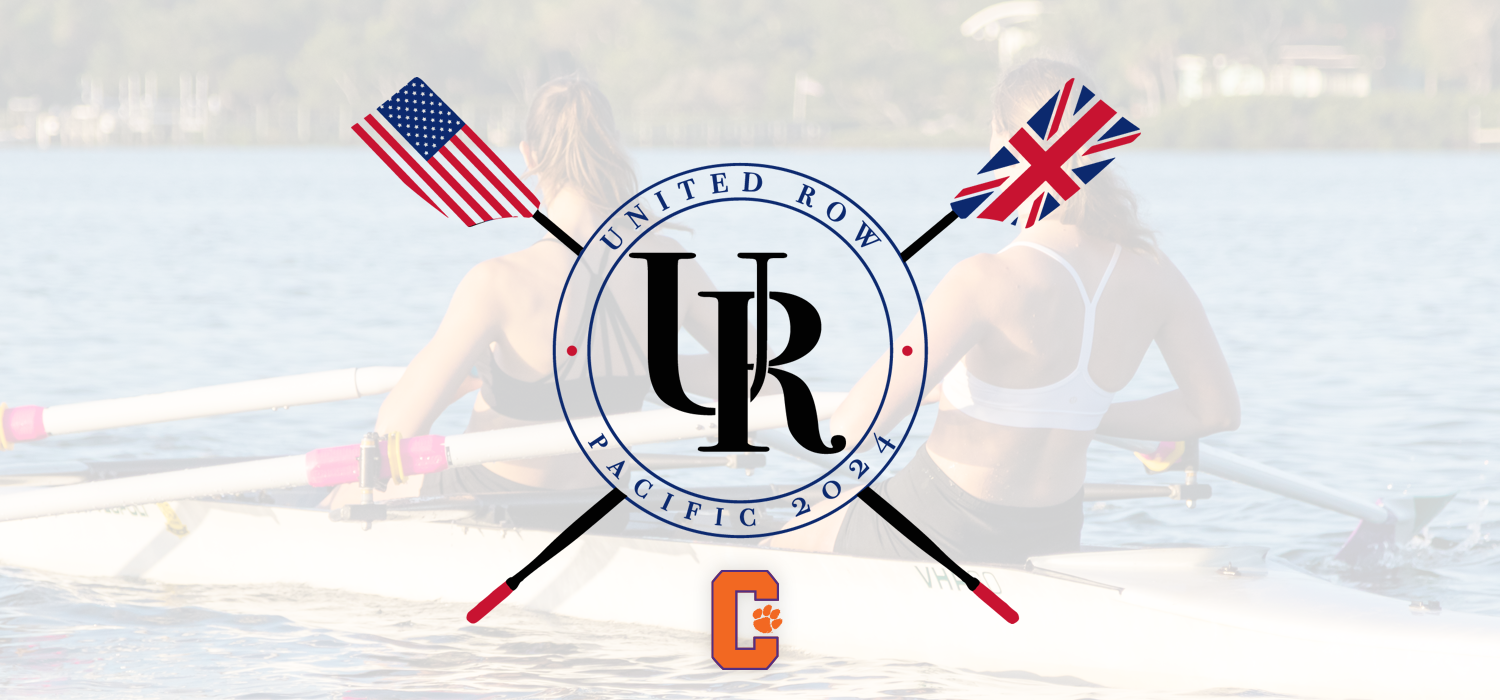 From Lake Hartwell to the Pacific Ocean
Clemson alumni Jenny D'Anthony and Anna McLean are no strangers to Lake Hartwell. As prior teammates on Clemson University Women's Varsity Rowing Team, they've rowed amongst countless sunrises during early morning practice. Their love for rowing, adventure, and challenge was founded at Clemson where Jenny pursued bioengineering and Anna, economics. With Jenny having won the most improved rower award and Anna the most motivational, they make the perfect pair to take on an even grander body of water – the Pacific Ocean.
The duo is now attempting to break the world record and become the youngest and fastest pair to row 2800 nautical miles from Monterey Bay, CA to Kauai, HI. They will launch in June 2024 as part of the Atlantic Campaigns Pacific Challenge. Facing constant exposure to harsh elements, battling 60 ft waves, seasickness, and mental and physical fatigue on their arduous journey, the fully self-supported expedition is expected to take around sixty days. 
Anna from the United Kingdom and Jenny from the United States are known together as "United Row." Their non-profit is passionate about inspiring girls and women to pursue their dreams, further their education, challenge themselves in sports, and build the skills needed for successful and healthy futures. The pair is raising money to benefit IPTAY's Hear Her Roar initiative, which propels the future of female student-athletes. Funds raised will provide scholarships, a nationally acclaimed academic experience, and state-of-the art training facilities and competition venues ensuring success both academically and athletically. Additionally, this program empowers female student-athletes to become leaders in their workplace, family, and community.
"Jenny D'Anthony was one of the most dependable athletes ever to come out of our program. In the classroom and on the water, Jenny was a top performer who always showed up big for her teammates. I don't think she was ever sick or injured during her time on the team and if she did have to sit out for a practice or two to rest it was over her strident objection. I can't imagine a better duo to embark on this grand adventure in the Pacific." –  Clemson Rowing Coach Stephen Fraizer Wong  
"My Clemson experience was nothing short of incredible. It transformed me in ways well beyond athletics. Opening my eyes and mind to things I never thought possible. I wear the paw with pride and am grateful for the opportunity to represent and give back to my alma-mater," said Jenny D'Anthony. "I am incredibly excited to immerse myself in an all consuming challenge, where I will test my limits both physically and mentally. There are few, if any, times in life you can entirely devote your attention to one goal. This is one incredible exception."
Ocean rowing is nothing new to Anna. In 2019 she completed a world first row across the Atlantic Ocean with her brother Cameron. Known as "The Seablings", the pair accomplished the expedition in 43 days, 15 hours and 22 minutes.
"Anna McLean's competitive determination is legendary from her time here at Clemson. She was the nicest person on land, but as soon as she stepped in the boat she was ready to fight to the last stroke to win for herself and her teammates. It surprised none of us here in Tiger Town when she and her brother successfully crossed the Atlantic a few years ago. Once she sets a goal she will not be denied." –  Clemson Rowing Coach Stephen Fraizer Wong
"As a student-athlete at Clemson I was able to meld my love for rowing alongside my passion for business. Surrounded by such driven, and highly successful students empowered me to "never settle" rather continue striving for more. From mornings on Lake Hartwell, to months in the Atlantic Ocean, and now with dreams even bigger, conquering the Pacific, I am beyond grateful for the foundation Clemson laid and humbled to be giving back to my alma mater and supporting future generations to pursue their dreams too." – Anna McLean
The team is currently fundraising for their ocean rowing boat, which will be their home at sea for 60+ days. The 24 ft boat will be equipped with everything they need to survive the journey unsupported – food, desalinator, safety equipment, and solar panels. The pair aims to keep the boat moving 24/7, rowing in a 2-hour shift pattern. Anna and Jenny will be documenting their journey up to the start line and across the Pacific Ocean. Follow along on their Instagram and Facebook and donate to their campaign at www.unitedrow.org. Donations are of monumental importance in helping these young ladies achieve their goals. All donations will be used to help the team get to the start line and support Hear Her Roar.
Please note donations made to United Row will not contribute towards your personal cumulative giving with IPTAY. All dollars raised above and beyond the needed resources to complete the trip will be donated to IPTAY's Hear Her Roar initiative by United Row.