One-IPTAY Enterprise Surpasses 22,000 Members and More Than $100 Million in Contributions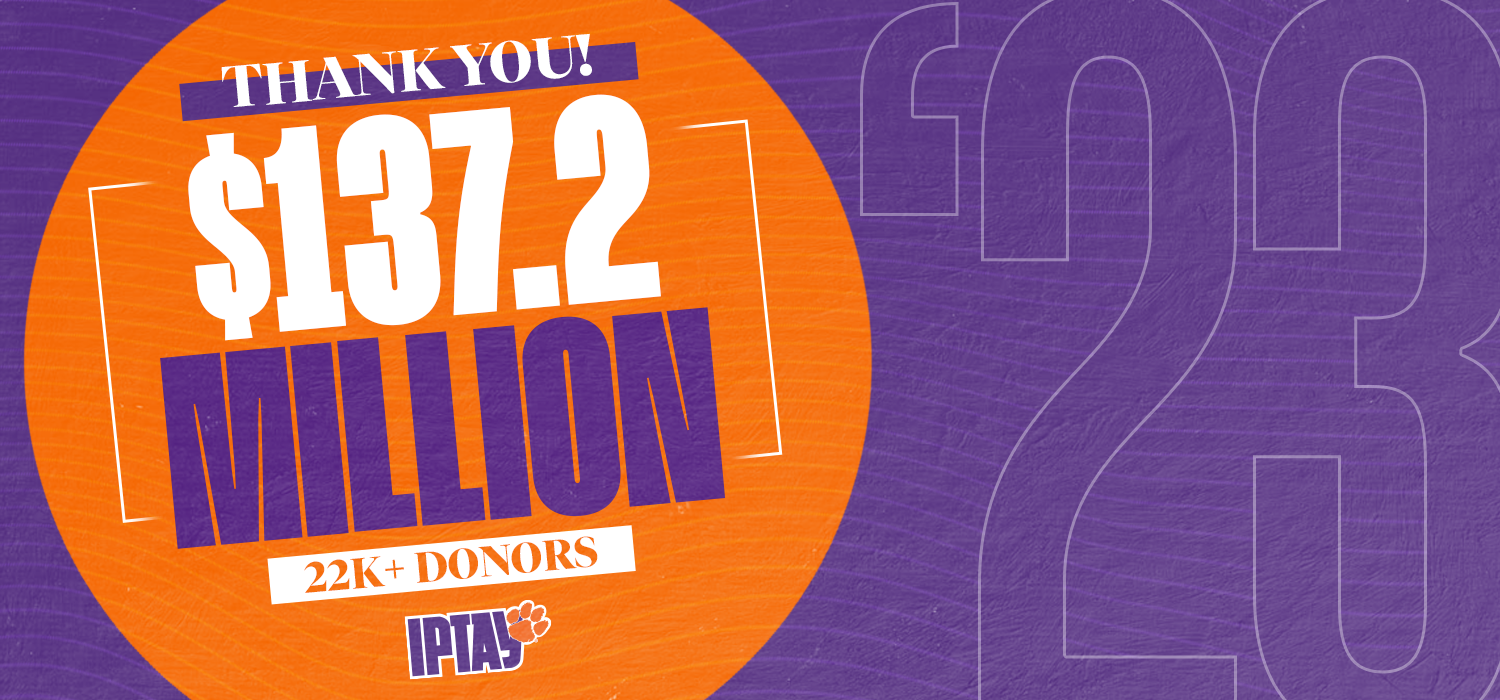 One-IPTAY Enterprise Surpasses 22,000 Members and More Than $100 Million in Contributions
IPTAY supporters rally together for historic year of generosity to impact Clemson student-athletes

Clemson, SC – The One-IPTAY enterprise concluded the fiscal year on June 30 with a record 22,040 members contributing to the mission and vision in support of Clemson student-athletes. The incredible display of generosity from Clemson alumni and friends throughout the year totaled $137.2 million and will serve to impact the development of the Tigers through student-athlete scholarships, new and upgraded athletics facilities, academic support at the Nieri Family Student-Athlete Enrichment Center, and student-athlete services such as leadership development, community engagement, sports psychology, nutrition, and strength and conditioning.
The record number of annual IPTAY members marks a 16% year-over-year increase, with over 8,100 new donors. In addition to annual membership growth the organization surpassed the $100 million threshold for the first time ever, bolstered by the support of the largest single contribution made in the history of athletics fundraising at Clemson as well as contributions to the annual fund surpassing $40 million – another first-time achievement.
"We continue to be astounded by the loyalty and generosity of each and every IPTAY supporter," said IPTAY CEO Davis Babb. "The ever-improving experience we're able to provide in developing our student-athletes in competition and beyond would not be possible without these investments. The energetic level of support for each of our fundraising priorities is positioning our athletics programs for sustained success, and we are incredibly grateful for the opportunity to continue expanding our impact through these contributions."
Among the key areas supported throughout the year was the Hear Her Roar initiative, launched last June to enhance resources for women student-athletes at Clemson. Contributions toward this initiative have supplemented the investment in the women's athletic facility expansion to be completed later this year. This exciting project will serve as the unrivaled new home for gymnastics, women's lacrosse and rowing.
Facility improvements made possible by donor support are also well underway for the Clemson Football game day experience. Both the expansion of Perimeter Road and the renovated Lot 5 encompassing a brand-new Tiger Walk are slated to be complete ahead of the season. Additionally, Clemson Athletics recently received Phase I approval from the Clemson University Board of Trustees for the expansion and renovation of basketball operations facilities at Swann Pavilion and Littlejohn Coliseum as well as Phase II approval for the new 50,000-square-foot Performance & Wellness Center featuring renovations to Jervey Gym, a new strength & conditioning facility, a new sports medicine clinic, and a new dining facility.
Alongside annual memberships and capital project support, contributions toward the One-IPTAY enterprise also came in the form of members within Block C Club, Collegiate Club, Young Alumni, Cub Club, premium seating, planned giving and gifts supporting Support Your Sport; IPTAY's sport-specific giving initiative.
Much like IPTAY members have risen to each occasion with exceptional generosity, Clemson student-athletes have rallied around the opportunities in front of them to represent the Tigers at the highest level. This year, programs combined to win four ACC championships for the first time since 1998-99 alongside numerous individual and team athletic achievements. Beyond competition, Clemson student-athletes collectively achieved their highest GPA at 3.25, with many earning individual academic All-ACC and All-American honors. The Tigers furthered their impact outside of competition through more than 2,100 community service hours at 38 different organizations. The baseball and rowing programs also finished with top-10 community service rankings for Division I schools nationally.
"IPTAY and its incredible membership continue to drive our athletic program's success by providing unprecedented support to our department," said Director of Athletics Graham Neff. "Often, people see only the results, but it's truly the effort behind-the-scenes and the lift from our donors that separates Clemson. We are grateful to every member and all those who make the Clemson Experience part of their lives. We will continue to do all we can to make our membership proud as we achieve at the highest levels in all areas."
The momentum behind IPTAY and Clemson Athletics has never been more tremendous, and the future for the Tigers is undoubtedly bright. As IPTAY and Clemson Athletics aim to build upon the success of the 2022-23 year, the focus remains on striving for excellence in and out of competition alongside providing the best possible experience for all Tiger student-athletes.
To learn more about becoming an IPTAY member or supporting athletics fundraising initiatives, visit ClemsonTigers.com/IPTAY or contact the IPTAY office at 864.656.2115.
IPTAY 2023 Year in Review