Lewis and Ree Miller Pledge Cornerstone Gift; Name Memorial Stadium WestZone Club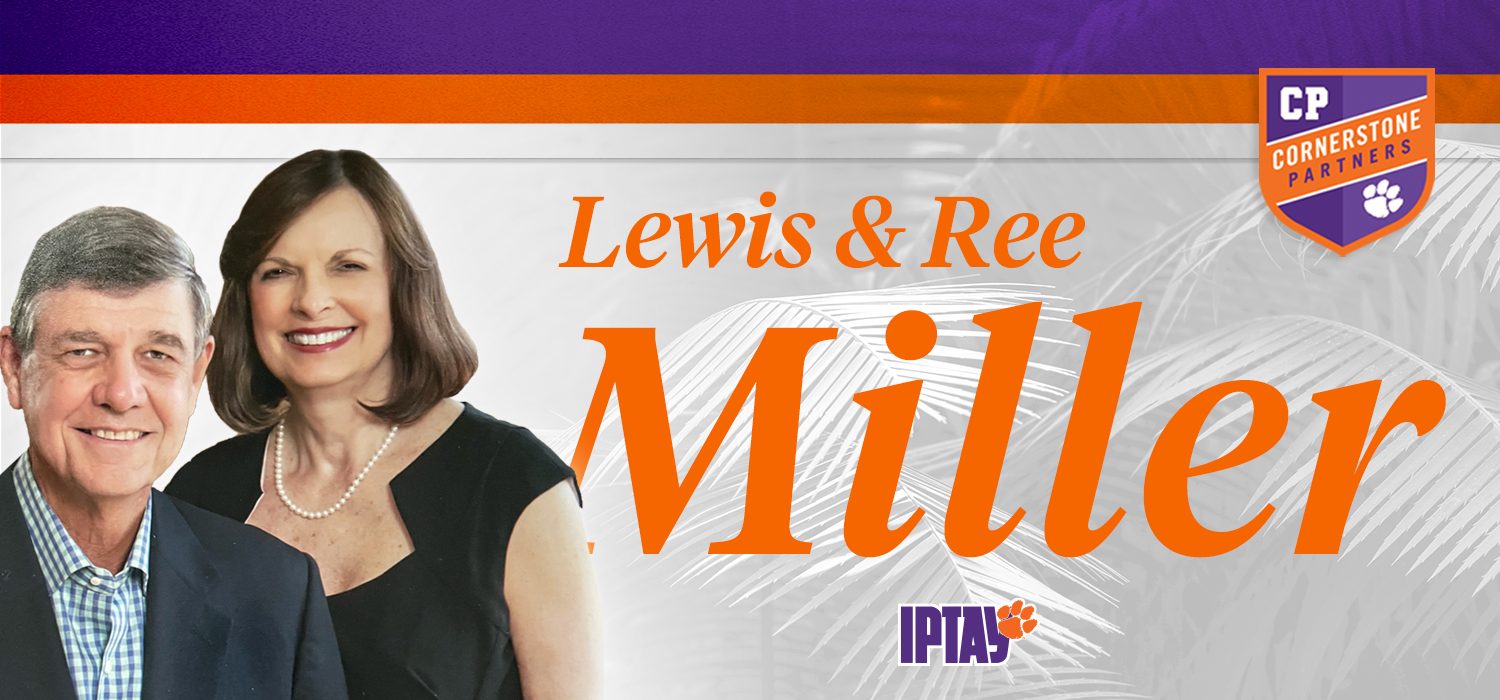 Lewis and Ree Miller Pledge Cornerstone Gift; Name Memorial Stadium WestZone Club
CLEMSON, S.C. – Lewis and Ree Miller of Spartanburg, S.C. have made a Cornerstone Partner pledge of $2.5M supporting IPTAY and Clemson University Athletics. The Millers are the sixteenth founding Cornerstone Partner to athletics since the initiative began in 2014. With an initial goal of 10 partners when the program was implemented, the Cornerstone Partner Program has grown to 22 partners. In recognition of the Millers' visionary and transformational gift, the WestZone Club in Memorial Stadium has been named in their honor.
"We are grateful to be a part of the Clemson Family and are proud to be a founding member of the athletic Cornerstone Partners," says Lewis Miller.
In addition to being Cornerstone Partners, Lewis and Ree have given to IPTAY for 55 consecutive years. They invested in the Life Membership program and give annually at the Heisman ($12,000) level.
"Clemson athletics and IPTAY continue to remain leaders within intercollegiate athletics because of the extreme generosity of people like Lewis and Ree Miller," said IPTAY CEO Davis Babb. "We are very appreciative of the commitment they have made to our student-athletes and our growing athletic program. Their gift will advance the initiatives within our athletic department providing a world-class student-athlete experience for our young men and women who wear the Paw.
Lewis, a lifelong Clemson Tiger, earned his Bachelor of Science degree in industrial management at Clemson University in May 1971. While a student on campus, he was actively involved in intramural sports and his fraternity, Kappa Sigma. Since then, he spent his entire career with the Southeastern Paper Group, where he began as a Warehouse Manager working his way to his role as CEO. Until being sold to NW Synergy (NWS) in December 2020, Southeastern Paper was a third-generation family and veteran-owned business headquartered in Spartanburg, S.C. The company served the southeastern United States since 1969 as a distributor of facility supplies, foodservice disposables, and industrial packaging equipment and products.
"We are grateful for the Miller Family and their unwavering support of Clemson athletics," said Director of Athletics Dan Radakovich. "Memorial Stadium is a special place on our campus. I am excited that their family will forever be a part of the facility with the naming of the Lewis and Marie Miller Family WestZone Club. Additionally, their gift will significantly impact our student-athletes for years to come, providing resources for them to be champions in competition and the classroom."
Ree, a 1973 graduate of Winthrop University, is active in the Spartanburg community, specifically serving others when there is a need. She and Lewis support the Hope Center for Children devoting their efforts to assist with the organization's mission to build stable, healthy families and provide children a safe place from abuse and neglect. She also enjoys reading, being active in health and fitness, and attending Tickled Pink Bible Study.
Lewis, like Ree, is dedicated to helping others. In addition to the Hope Center for Children, he supports Project Hope, which provides a lifespan of services for the autism community. He also sits on the board of directors for the Mountainview Nursing Home.
"As a Clemson Alumnus, I take great pride in wearing the Tiger Paw and sharing the love of the Clemson Family. We are honored to make this gift to Clemson in support of our talented student-athletes and all that they embody. Ree and I look forward to witnessing the continued success of current and future Tigers in all phases of their collegiate journeys," says Lewis Miller.
The Millers reside in Spartanburg, S.C. and have four children: Benjy, Michelle, Andrew, and Kimberly and six grandchildren: Ben, Rivers, Will, Elle, Graham, and Wyatt.
With this gift, the Miller family became the sixteenth member of the Cornerstone Partner program in Athletics, joining those who have pledged a minimum of $2.5 million to propel Clemson forward in the University's quest to educate and prepare student-athletes who will compete and win at the highest levels.