IPTAY Closes 2021 Year With Record $76.3M In Contributions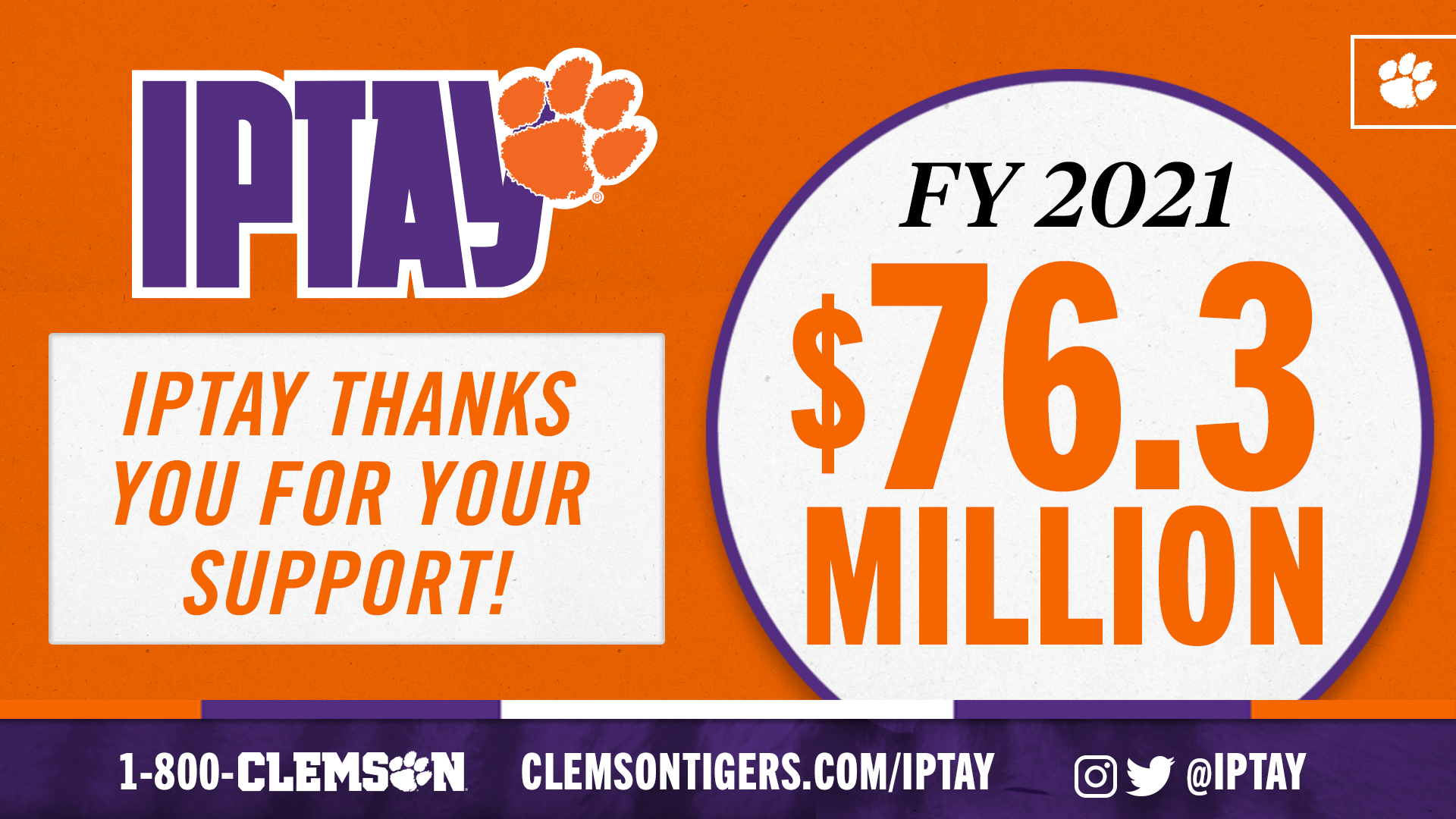 IPTAY Closes 2021 Year With Record $76.3M In Contributions
IPTAY, the fundraising arm for Clemson University Athletics, finished the IPTAY 2021 campaign with a "One-IPTAY" record of $76.3M in contributions. This most recent fiscal year that ended on June 30, 2021, marked the 87th year that IPTAY has provided financial support for the Clemson Tigers. The cumulative total includes $40.7M in annual gifts, $21.1M in major gifts, $7.4M in planned gifts, and $7.1M in premium seat donations.
"We are very grateful for our IPTAY donors and their continued support of our nearly 500 student-athletes across our 19 sport program," said Davis Babb, chief executive officer of IPTAY. "Their investment makes a tremendous positive impact in the lives of our young people as they pursue their athletic and academic goals while students on campus. Regardless of size, every gift is significant and helps solidify Clemson as one of the nation's elite intercollegiate athletic programs. On behalf of our IPTAY staff, athletic administrators, coaches, and student-athletes, I want to thank our donors for being on the IPTAY team!"
The annual fund's $40.7M was also a record in contributions, topping the previous mark of $38.7M set in 2020. 18,410 priority donors contributed to IPTAY in 2021 across 12 giving levels. It is the fifth consecutive year that number of priority donors has eclipsed 17,000. The highest annual giving level, Riggs (25,000), had 94 donors; the greatest number of donors at that level since its inception in 2015. Additionally, of those 18,410 donors, 3,656 were new to the team in 2021, and 2,964 are a part of the young alumni program. It is important to note that the IPTAY 2021 annual fund total includes one-time revenues of $1.3M from 2020 football season ticket dollars donated to IPTAY.
IPTAY Tiger Cub and CATS Clubs for young Tiger supporters from 0-18 had over 1,800 supporters in 2021. While the IPTAY Collegiate Club, the student group within IPTAY, had over 6,400 donors. These groups together contributed a total of $276,402. Block C Club, which concentrates its efforts on enhancing the lifelong experience of former Clemson student-athletes, had 1,165 members in 2021. Their philanthropic commitment to Block C reached $63,425, and like the youth programs, these contributions are included in the annual fund overall total.
Implemented in 2015, the Cornerstone Partners' program had its most successful year to date during IPTAY 2021. Six partners were secured, totaling $13.5M of the $21.1M raised through major giving. With the addition of these six partners in 2021, the Cornerstone Partner Program within IPTAY has grown to 22 partners totaling $67.3M.
Additionally, over the past year, IPTAY returned $5.2M to donors who requested refunds on their donations made during the IPTAY 2020 year due to the pandemic. Also, IPTAY, alongside the Clemson University Athletic Department, worked diligently towards mitigating the overall $20M revenue gap that the enterprise faced during the 2021 fiscal year.
For a complete recap of the IPTAY 2021 year, including a breakdown of donors by membership level, youth program results, the Block C Club, and more, follow the link below to the recently published IPTAY 2021 Year In Review.
Originally, the letters IPTAY stood for "I pay ten a year." Begun in 1934 to give the Clemson athletic program the support it needed, IPTAY is now one of the most successful athletic fundraising organizations in the nation. IPTAY donors provide millions of dollars in scholarships for student-athletes and non-athletes alike. It also has provided substantial support for programs and facilities that help Clemson Athletics stay competitive in collegiate sports.