IPTAY Center Officially Named for Cornerstone Partner; John N. McCarter Jr.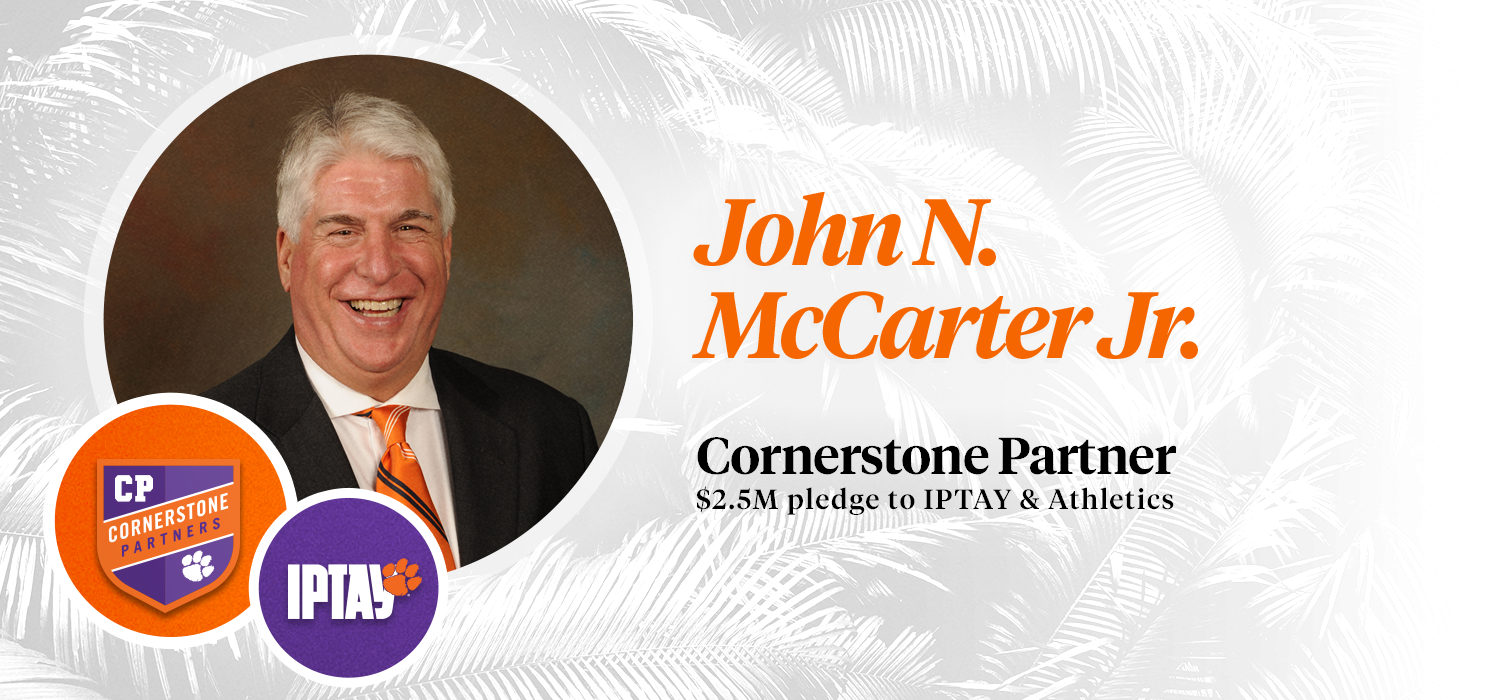 IPTAY Center Officially Named for Cornerstone Partner; John N. McCarter Jr. 
CLEMSON S.C. – John N. "Nicky" McCarter, Jr., a 1980 graduate of Clemson University through his generous Cornerstone Partner pledge of $2.5M to IPTAY and Clemson athletics in 2017, has officially named the IPTAY Center; the McCarter Family IPTAY Center. His gift has been used to further the success of the Clemson student-athlete experience across the current 19-sport program.
"It is such a great pleasure to be able to make this gift in support of our talented student-athletes. Their accomplishments in athletics and in academics are remarkable, which continues to make me very proud to be a Clemson Tiger. Being able to serve and be a part of this great University for more than 50 years is something that I value greatly. I look forward to witnessing and being a part of the future successes of our growing athletic program," says Nicky McCarter.
Since earning his degree in administrative management, McCarter has spent his entire professional career with Defender Services, Inc. With over 3,100 employees across 40 South Carolina counties and 14 states; Defender Services Inc. is a provider of professional services for industrial and manufacturing facilities, commercial and retail businesses, educational institutions, and health care facilities. During his more than four decades with the company, he has held various positions, and today is the company's owner, president, and CEO.
"Nicky McCarter truly embodies the Clemson Spirit and is an outstanding champion for IPTAY and our great University," said IPTAY CEO Davis Babb. "His service on the IPTAY Board of Directors as a member of the University Board of Trustees has immensely helped our organization thrive as the largest revenue provider to Clemson athletics. Additionally, his Cornerstone Partner gift is special to the IPTAY Family as our facility is now named in his family's honor. This gift of $2.5M has further grown the scope in which IPTAY can support Clemson student-athletes in their endeavors to be champions in the classroom, athletic competition, and in life."
During his time on campus as a student, he was very involved with the athletic department, especially the football program. As a freshman, he walked on the football team as a walk-on linebacker. Since graduation, McCarter has continued to serve his alma mater through numerous outlets and organizations.
Elected in 2008 by the General Assembly, he has been and continues to be a member of the Clemson University Board of Trustees. As a board member, he has served on several committees, including the Agriculture and Natural Resources, Executive and Audit, Finance and Facilities, Institutional Advancement, Compensation, and Student Affairs committees. Additionally, he held the position of Vice-Chair from 2013-17.
"The gratitude I have for Nicky McCarter is immeasurable. He is a significant catalyst to the success of our athletic program through his steadfast commitment and leadership to our University," said Director of Athletics Dan Radakovich. "His Cornerstone Partner gift is an outward sign of his dedication and passion for the continued growth of our elite athletic program and our Clemson student-athletes."
In addition to being a Cornerstone Partner, Nicky has given to IPTAY for 46 consecutive years. He invested in the Endowment Membership program and gives annually at the Riggs giving ($25,000) level.
McCarter is a member of the Thomas Green Clemson Society and the South Carolina Waterfowl Association and is the past president of the South Carolina Athletic Hall of Fame. An Eagle Scout, McCarter serves on the Indian Waters Council Executive Board and the NBSC Columbia Advisory Board. McCarter is also a Mason and a Shriner, and a former baseball coach for the Palmetto Baseball League. In 2019, McCarter was honored by the Clemson Alumni Association with the Distinguished Service Award, the highest honor that the association bestows on former Clemson Tigers.
McCarter and his late wife, Cass, had two children, Lauren ('12,'18) and Cole ('16). McCarter and fiancé Stacy Pennington reside in Columbia.
With this gift, Nicky McCarter became a founding partner of the Cornerstone Partner program in Athletics. A total of 22 partners have pledged a minimum of $2.5M to propel Clemson forward in the University's quest to educate and prepare student-athletes who will compete and win at the highest levels.