Clemson Athletic Hall of Fame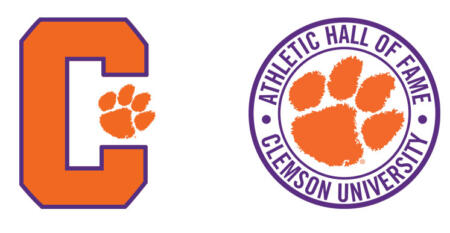 Clemson Athletic Hall of Fame
The Block C Club oversees the Clemson University Athletic Hall of Fame, which honors former student-athletes, coaches and individuals associated with the department for their outstanding accomplishments and contributions to the Clemson university athletic department.
Any former Clemson student-athlete, living or deceased, who received an athletic letter from the Clemson University Athletic Department and who excelled athletically is eligible for Hall of Fame consideration 10 years after his or her athletic eligibility has been exhausted. In addition, former coaches, managers, trainers, etc., who made significant contributions to Clemson athletics are also eligible for consideration. Active Clemson coaches are not eligible for consideration and must be retired from that position for a minimum of five years.
Any person may recommend any eligible individual for consideration as a nominee. Nominations should be accompanied by information regarding the achievements of the individual being recommended. Once placed on the list of candidates, a person remains on the list for four years unless he or she is renominated.
As many as 10 individuals may be inducted into the Hall of Fame in any year. Names of those individuals who are nominated are forwarded to the Hall of Fame Approval Committee and, once approved by the Committee, will be made public. The Hall of Fame induction ceremony will be held on the Clemson campus on a Friday evening prior to a home football game, and the newest inductees will be introduced to the Memorial Stadium crowd.
Nominations for the 2023 Clemson Athletics Hall of Fame are now open!
The deadline to submit a nomination is March 10, 2023. 
2022 Hall Of Fame Recognition
Clemson Athletic Hall of Fame Members
2022 INDUCTEES
| name | sport / emphasis | years at clemson |
| --- | --- | --- |
| Dwayne Allen | Football | 2009-2011 |
| Bob Boettner | Head Swimming Coach | 1977-1991 |
| Da'Quan Bowers | Football | 2008-2010 |
| Jacoby Ford | Football & Track & Field | 2006-2010 |
| Patricia Mamona | Track & Field | 2008-2011 |
| Joey McKenna | Wrestling | 1983-1986 |
| Brad Miller | Baseball | 2009-2011 |
| Oguchi Onyewu | Soccer | 2000-2001 |
| Wesley Russell | Track & Field | 1992-1993 |
| Kyle Stanley | Golf | 2006-2009 |
| Suzanne Van Fleet | Rowing | 2005-2008 |
2020 INDUCTEES
| name | sport / emphasis | years at clemson |
| --- | --- | --- |
| Julie Augustyniak | Women's Soccer | 1997-2000 |
| Trevor Booker | Men's Basketball | 2006-2010 |
| Cappy Craig | Swimming | 1977-1982 |
| Bill D'Andrea | Administrator | 1983; 1986-2014 |
| Nicky Goetze | Men's Golf | 1989-1993 |
| Jack Leggett | Head Baseball Coach | 1994-2015 |
| Travis Padgett | Men's Track & Field | 2006-2008 |
| C.J. Spiller | Football & Track & Field | 2006-2010 |
2019 INDUCTEES
| Name | Sport / Emphasis | Years at Clemson |
| --- | --- | --- |
| James Davis | Football | 2005-2008 |
| Jimmy Glenn | Men's Soccer | 1990-1993 |
| Karen Hartmann | Women's Track & Field | 1992-1995 |
| Brian Kowitz | Baseball | 1987-1990 |
| Dr. Terry Don Phillips | Athletic Director | 2002-2012 |
| K.C. Rivers | Men's Basketball | 2005-2009 |
| Nadra Simmons | Swimming | 1984-1988 |
| Mitch Sprengelmeyer | Men's Tennis | 1994-1997 |
| Dave Thompson | Football | 1968-1979 |
2018
INDUCTEES
| Name | Sport / Emphasis | Years at Clemson |
| --- | --- | --- |
| Jeff Baker | Baseball | 2000-2002 |
| Jim Bundren | Football | 1994-1997 |
| Gary Conner | Men's Soccer | 1983-1986 |
| Cormac Finnerty | Track & Field | 1989-1992 |
| Cliff Hammonds | Men's Basketball | 2004-2008 |
| Danielle Hepburn | Volleyball | 2005-2008 |
| Lynda Beth Dughs | Swimming | 1985-1988 |
| Tracey Leone | Women's Soccer | 1985-1988 |
| Mareike Ressing | Track & Field | 1990-1994 |
| Rick Rudeen | Men's Tennis | 1981-1984 |
2017
INDUCTEES
| Name | Sport / Emphasis | Years at Clemson |
| --- | --- | --- |
| Katie Carson | Women's Soccer | 1998-2001 |
| Josh Cody | Football Coach & Basketball Coach | 1927-1930 |
| Richard Coughlan | Men's Golf | 1993-1997 |
| Anne Evans | Track & Field | 1989-1992 |
| Wolde Harris | Men's Soccer | 1993-1995 |
| Tye Hall | Football & Track & Field | 2002-2005 |
| Gisele Oliveria | Track & Field | 2002-2005 |
| Steve Renshaw | Fencing | 1977-1980 |
| Tony Wheeler | Track & Field | 1994-1997 |
2016
INDUCTEES
| Name | Sport / Emphasis | Years at Clemson |
| --- | --- | --- |
| Nikkie Bouyer | Track & Field | 1996-1999 |
| Lou Cordileone | Football & Baseball | 1957-1959 |
| Jeb Flesch | Football | 1988-1991 |
| Rod Gardner | Football | 1997-2000 |
| Cathy Hofer | Women's Tennis | 1986-1989 |
| Andy Johnston | Women's Tennis Coach & Football Administration | 1983-1997; 1998-2014 |
| Jan Kemmerling | Swimming | 1985-1988 |
| Kent Kinnear | Men's Tennis | 1985-1988 |
| Paul Rutenis | Men's Soccer | 1984-1987 |
| Dennis Walling | Baseball | 1975 |
| Chris Whitney | Men's Basketball | 1991-1993 |
2015
INDUCTEES
| Name | Sport / Emphasis | Years at Clemson |
| --- | --- | --- |
| Nancy Augustyniak | Women's Soccer | 1997-2000 |
| Jay Berger | Men's Tennis | 1985-1986 |
| Duane Bruley | Head Men's Tennis Coach | 1963-1973 |
| Danny Ellis | Men's Golf | 1989-1993 |
| Ed McDaniel | Football | 1998-1991 |
| Linda Rutter | Swimming | 1982-1986 |
| Tim Teufel | Baseball | 1979-1980 |
| Pearse Tormey | Men's Soccer | 1987-1990 |
| Cheron Wells | Women's Basketball | 1990-1992 |
| Billy Williams | Men's Basketball | 1977-1980 |
2014
INDUCTEES
| Name | Sport / Emphasis | Years at Clemson |
| --- | --- | --- |
| Mike Gandolfo | Men's Tennis | 1977-1980 |
| Nnamdi Nwokocha | Men's Soccer | 1979-1981 |
| Dwight Rainey | Associate Athletic Director & Men's Basketball Coach | 1975-2007; 1975-1982 |
| Jim Riggs | Football | 1983-1986 |
| Duane Ross | Track & Field | 1992-1995 |
| Ed Scott | Men's Basketball | 1999-2003 |
| Shekera Weston | Track & Field | 1997-2001 |
2013
INDUCTEES
| Name | Sport / Emphasis | Years at Clemson |
| --- | --- | --- |
| Brentson Buckner | Football | 1990-1993 |
| Michelle Burgher | Track & Field | 1999-2001 |
| Cliff Ellis | Men's Basketball Coach | 1984-1994 |
| Terrence Flagler | Football | 1982-1986 |
| Chrissy Floyd | Women's Basketball | 1999-2003 |
| Robin Kibben | Volleyball | 1991-1994 |
| Matthew LeCroy | Baseball | 1995-1997 |
| Julius Ogaro | Track & Field | 1979-1981 |
| Ray Williams | Baseball & Football | 1983-87 |
2012
INDUCTEES
| Name | Sport / Emphasis | Years at Clemson |
| --- | --- | --- |
| Gaines Adams | Football | 2003-2006 |
| Deliah Arrington | Women's Soccer | 1999-2002 |
| Julie Coin | Women's Tennis | 2003-2005 |
| Sarah Cooper | Rowing | 2004-2007 |
| Karen Ann Jenkins | Women's Basketball | 1985-1989 |
| Wojtek Krakowiak | Men's Soccer | 1997-1998 |
| Billy McMillon | Baseball | 1991-1993 |
| Stacy Seegars | Football | 1990-1993 |
| Bill Wilhelm | Baseball Head Coach | 1958-1993 |
| Warren Wilson | Boxing, Football, Track & Field, Baseball | 1938-1941 |
2011
INDUCTEES
| Name | Sport / emphasis | years at clemson |
| --- | --- | --- |
| Keith Adams | Football | 1998-2000 |
| Neil Brophy | Swimming & Diving | 1979-1983 |
| Ingelise Driehuis | Women's Tennis | 1986-1987 |
| Shane Monahan | Baseball | 1993-1995 |
| Jamine Moton | Track & Field | 1998-2002 |
| Ross O'Dell | Track & Field | 1925-1928 |
| Sharone Wright | Men's Basketball | 1991-1994 |
2010
INDUCTEES
| name | sport / emphasis | years at clemson |
| --- | --- | --- |
| Henry Abadi | Men's Soccer | 1972-1973 |
| Shawn Crawford | Track & Field | 1997-2000 |
| Cindy Duarte | Track & Field | 1980-1984 |
| Pender Murphy | Men's Tennis | 1978-1981 |
| Harold Olson | Football | 1957-1959 |
| Bob Pollock | Track & Field Coach | 1988-2008 |
| Paulette Russell | Swimming & Diving | 1990-1993 |
| James Trapp | Track & Field & Football | 1989-1993 |
2009
INDUCTEES
| name | sport / emphasis | years at clemson |
| --- | --- | --- |
| Rob Bodine | Football | 1989-1991 |
| Sheri Bueter | Women's Soccer | 1994-1998 |
| Brian Dawkins | Football | 1992-1995 |
| Jean Desdunes | Men's Tennis | 1980-1983 |
| John Engler | Men's Golf | 1997-2001 |
| Chuck Kriese | Men's Tennis Coach | 1975-2008 |
| Grayson Marshall | Men's Basketball | 1984-1988 |
| Jodi Steffes | Volleyball | 1998-2001 |
2008
INDUCTEES
| name | sport / emphasis | years at clemson |
| --- | --- | --- |
| Jim Davis | Women's Basketball Coach | 1987-2004 |
| Lucy Doolittle | Rowing | 1998-2002 |
| Angel Fleetwood | Track & Field | 1989-1992 |
| Ruth Grodsky | Swimming & Diving | 1985-1988 |
| Anthony Simmons | Football | 1995-1997 |
| Itoro Umoh | Women's Basketball | 1995-1999 |
| Willie Underwood | Football | 1977-1980 |
| Billy Wingo | Football & Baseball | 1973-1977 |
2007
INDUCTEES
| Name | Sport / Emphasis | Years at clemson |
| --- | --- | --- |
| Lester Brown | Football | 1976-1979 |
| Woody Dantzler | Football | 1998-2001 |
| Amy Geren | Women's Basketball | 1996-1999 |
| Lucas Glover | Men's Golf | 1998-2001 |
| Khalil Greene | Baseball | 1999-2002 |
| Terrell McIntyre | Men's Basketball | 1996-1999 |
| Kerry Robinson | Women's Track & Field | 1981-1984 |
| Nelson Welch | Football | 1991-1994 |
2006
INDUCTEES
| name | sport / emphasis | years at clemson |
| --- | --- | --- |
| Shandy Bryan | Women's Basketball | 1978-1981 |
| Jonathan Byrd | Men's Golf | 1997-2000 |
| Wayne Coffman | Track & Field & Administrator | 1978-2015 |
| Terrance Herrington | Track & Field | 1985-1989 |
| Steve Kenney | Football | 1976-1979 |
| Dr. Robert Poole | Football & President | 1915-1916 |
| Kyle Young | Football | 1998-2001 |
2005
INDUCTEES
| name | sport / emphasis | years at clemson |
| --- | --- | --- |
| Kris Benson | Baseball | 1993-1996 |
| Greg Buckner | Men's Basketball | 1994-1998 |
| Gigi Fernandez | Women's Tennis | 1993 |
| Cindy Stern-DeMartino | Volleyball | 1996-1999 |
| Charles Warren | Men's Golf | 1995-1998 |
| Donnell Woolford | Football | 1985-1988 |
2004
INDUCTEES
| name | sport / emphasis | years at clemson |
| --- | --- | --- |
| Brian Barnes | Baseball | 1986-1989 |
| Sara Burkett | Women's Soccer | 1995-1998 |
| Coy Cobb | Swimming & Diving | 1981-1984 |
| Stacy Long | Football | 1986-1990 |
| Clarence Rose | Men's Golf | 1976-1980 |
| Randy Scott | Football | 1975-1978 |
| Nicole Stafford-Lake | Women's Tennis | 1985-1989 |
2003
INDUCTEES
| name | sport / emphasis | years at clemson |
| --- | --- | --- |
| Eric Eichmann | Men's Soccer | 1983-1986 |
| Jane Forman | Women's Tennis | 1980-1984 |
| Vincent Hamilton | Men's Basketball | 1980-1985 |
| Jim Haughey | Track & Field & Cross Country | 1979-1983 |
| Whitey Jordan | Football | 1955-1957 |
| Michael Sanders | Football & Baseball | 1971-1974 |
2002
INDUCTEES
| name | sport / emphasis | years at clemson |
| --- | --- | --- |
| Gary Barnes | Football | 1959-1961 |
| Mary Ann Cubelic-Grant | Women's Basketball | 1979-1983 |
| Bert Heffernan | Baseball | 1985-1988 |
| Kevin Johnson | Men's Golf | 1985-1989 |
| William Perry | Football | 1981-1984 |
| Bobby Robinson | Athletic Director | 1985-2002 |
2001
INDUCTEES
| name | sport / emphasis | years at clemson |
| --- | --- | --- |
| Rick Aronberg | Swimming & Diving | 1986-1990 |
| Jill Bakehorn | Swimming & Diving | 1986-1989 |
| Lisa Dillard-Hanks | Track & Field | 1988-1991 |
| Bill Foster | Men's Basketball | 1975-1984 |
| Chris Gardocki | Football | 1988-1990 |
| Michael Green | Track & Field | 1990-1993 |
| Levon Kirkland | Football | 1988-1991 |
| Richard Matuszewski | Men's Tennis | 1983-1986 |
| Bobbie Mims | Women's Basketball | 1976-1980 |
2000
INDUCTEES
| name | sport / emphasis | years at clemson |
| --- | --- | --- |
| Jessica Barr | Women's Basketball | 1992-1994 |
| Elden Campbell | Men's Basketball | 1986-1990 |
| Dr. Jud Hair | Team Physician | 1957-1985 |
| Sam Henson | Wrestling | 1992-1994 |
| Dr. I.M. Ibrahim | Men's Soccer Coach | 1967-1994 |
| Ute Jamrozy | Track & Field | 1985-1988 |
| Chris Patton | Men's Golf | 1986-1990 |
| Michael Dean Perry | Football | 1984-1987 |
| James Trapp | Track & Field & Football | 1989-1993 |
| Rodney Williams | Football | 1985-1988 |
1999
INDUCTEES
| Name | Sport / Emphasis | Years at Clemson |
| --- | --- | --- |
| Bubba Brown | Football | 1976-1979 |
| Mark Dickson | Men's Tennis | 1979-1982 |
| Janet Ellison McDonnell | Swimming & Diving | 1977-1980 |
| Danny Ford | Football Coach | 1979-1989 |
| Horace Grant | Men's Basketball | 1983-1987 |
| Jimmy Key | Baseball | 1980-1982 |
| Janet Knight-Linder | Women's Basketball | 1982-1986 |
| Dr. Denise Murphy | Volleyball | 1983-1986 |
| John Phillips | Football | 1984-1987 |
1998
INDUCTEES
| Name | Sport / Emphasis | Years at Clemson |
| --- | --- | --- |
| Obed Ariri | Football & Men's Soccer | 1976-1980 |
| Chip Clark | Men's Basketball, Golf & Track & Field | 1942-1946 |
| Eddis Freeman | Football, Men's Basketball & Golf | 1943-1946 |
| Kim Graham | Women's Track & Field | 1989-1993 |
| Dillard Pruitt | Golf | 1981-1984 |
| Bill Spiers | Baseball & Football | 1985-1987 |
1997
INDUCTEES
| Name | Sport / Emphasis | Years at Clemson |
| --- | --- | --- |
| Ben Anderson | Football | 1970-1972 |
| Jeff Bostic | Football | 1977-1979 |
| Neil Simons | Baseball | 1977-1989 |
| David Treadwell | Football | 1984-1987 |
1996
INDUCTEES
| Name | Sport / Emphasis | Years at Clemson |
| --- | --- | --- |
| Joe Bostic | Football | 1975-1978 |
| Jeff Bryant | Football | 1978-1981 |
| Dale Davis | Men's Basketball | 1987-1991 |
| Donna Forrester | Women's Basketball | 1976-1978 |
| Fred Knoebel | Football & Baseball | 1950-1952 |
1995
INDUCTEES
| Name | Sport / Emphasis | Years at Clemson |
| --- | --- | --- |
| Rusty Adkins | Baseball | 1964-1967 |
| Pam Hayden | Swimming & Diving | 1984-1988 |
| Ralph Jenkins | Football | 1943-1946 |
| Hans Koeleman | Men's Track & Field | 1980-1983 |
| Larry Nance | Men's Basketball | 1977-1981 |
| Phil Prince | Football | 1944-1948 |
| Jim Stuckey | Football | 1976-1979 |
1994
INDUCTEES
| Name | Sport / Emphasis | Years at Clemson |
| --- | --- | --- |
| Jimmy Addison | Football | 1965-1967 |
| Dreher Gaskin | Football | 1950-1953 |
| Mitzi Kremer | Swimming & Diving | 1986-1989 |
| Bob Paulling | Baseball & Football | 1979-1983 |
| Dewey Quinn | Football, Men's Basketball & Baseball | 1943-1946 |
| Dr. Walter Riggs | Administrator | 1896-1900 |
| Annie Tribble | Women's Basketball | 1976-1987 |
1993
INDUCTEES
| Name | Sport / Emphasis | Years at Clemson |
| --- | --- | --- |
| Bobby Conrad | Men's Basketball | 1976-1980 |
| Homer Jordan | Football | 1979-1982 |
| Tina Krebs | Women's Track & Field & Cross Country | 1982-1986 |
| Wayne Mass | Football | 1965-1967 |
| Bill McLellan | Football Coach & Athletic Director | 1952-1953; 1966-1985 |
| Gene Moore | Football & Baseball | 1946-1949 |
1992
INDUCTEES
| Name | Sport / Emphasis | Years at Clemson |
| --- | --- | --- |
| Terry Kinard | Football | 1978-1982 |
| Don King | Football | 1952-1955 |
| Parker Moore | Golf | 1973-1976 |
| Bruce Murray | Men's Soccer | 1984-1987 |
| Jim Phillips | Broadcaster | 1967-2003 |
| Don Wade | Football | 1949-1951 |
1991
INDUCTEES
| Name | Sport / Emphasis | Years at Clemson |
| --- | --- | --- |
| Dude Buchanan | Baseball & Men's Basketball | 1938-1941 |
| Doug Cline | Football | 1957-1959 |
| Bill Dillard | Football, Men's Basketball & Track & Field | 1932-1935 |
| Noel Loban | Wrestling | 1977-1980 |
| Jim Sutherland | Men's Basketball | 1964-1967 |
| Perry Tuttle | Football | 1978-1981 |
1990
INDUCTEES
| Name | Sport / Emphasis | Years at Clemson |
| --- | --- | --- |
| Mike Eppley | Football & Men's Basketball | 1980-1984 |
1989
INDUCTEES
| Name | Sport / Emphasis | Years at Clemson |
| --- | --- | --- |
| George Bennett | Executive Director of IPTAY | 1971-1979; 1993-2004 |
| Jeff Davis | Football | 1978-1981 |
| Barbara Kennedy-Dixon | Women's Basketball | 1978-82 |
| Phil Rogers | Football | 1965-1967 |
1988
INDUCTEES
| Name | Sport / Emphasis | Years at Clemson |
| --- | --- | --- |
| Bob Burns | Men's Tennis | 1958-1962 |
| Charlie Bussey | Football | 1954-1956 |
| Dwight Clark | Football | 1975-1978 |
| Bob Smith | Baseball & Football Coach | 1950-1969 |
| Craig White | Baseball | 1969-1973 |
| Don Willis | Football | 1935-1938 |
| Butch Zatezalo | Men's Basketball | 1966-1970 |
1987
INDUCTEES
| Name | Sport / Emphasis | Years at Clemson |
| --- | --- | --- |
| Tom Barton | Football | 1949-1952 |
| Thomas Brown | Football & Men's Basketball | 1933-1937 |
| Carl Pulkinen | Boxing & Men's Track & Field | 1946-1949 |
| Tree Rollins | Men's Basketball | 1973-1977 |
1986
INDUCTEES
| Name | Sport / Emphasis | Years at Clemson |
| --- | --- | --- |
| Jerry Butler | Football | 1975-1978 |
| Buddy Gore | Football | 1965-1967 |
| William Lynn | Men's Track & Field | 1931-1934 |
| Susan Hill-Whitson | Women's Tennis | 1977-1980 |
1985
INDUCTEES
| Name | Sport / Emphasis | Years at Clemson |
| --- | --- | --- |
| Bob Bradley | Sports Information Director | 1955-1989 |
| Steve Fuller | Football | 1975-1978 |
| Doug Kingsmore | Baseball | 1951-1954 |
| Covington (Goat) McMillan | Football & Football Coach | 1928-1929; 1937-1964 |
| Charlie Timmons | Football | 1938-1942 |
1984
INDUCTEES
| Name | Sport / Emphasis | Years at Clemson |
| --- | --- | --- |
| Clyde Brown | Men's Soccer | 1972-1975 |
| Jack Chandler | Track & Field & Men's Soccer | 1920-1925 |
| Walter Cox | Football, Baseball & Coach | 1935-1951 |
| Bennie Cunningham | Football | 1973-1975 |
| Dr. R.C. Edwards | Football | 1933 |
| Dick Hendley | Football & Baseball | 1946; 1948-1951 |
| Bill Hudson | Football & Men's Track & Field | 1985-1988 |
1983
INDUCTEES
| Name | Sport / Emphasis | Years at Clemson |
| --- | --- | --- |
| Jim Brennan | Men's Basketball | 1961-1964 |
| David Cooper | Men's Tennis | 1967-1969 |
| John Grdijan | Football | 1955-1957 |
| Billy Hair | Football | 1950-1952 |
| Carl McHugh | Swimming & Diving Coach | 1947-1976 |
| Carter Newman | Men's Track & Field, Men's Basketball | 1924-1927 |
| Strom Thurmond | Men's Track & Field | 1921-1923 |
1982
INDUCTEES
| Name | Sport / Emphasis | Years at Clemson |
| --- | --- | --- |
| Rusty Gerhardt | Baseball | 1969-1972 |
| Fred Hoover | Athletic Director | 1959-1998 |
| Rick Robbins | Academics | 1967-1980 |
| Bob Sharpe | Football | 1938-1940 |
| Glenn Smith | Football | 1949-1951 |
| Jimmy Wynn | Men's Track & Field | 1962-1964 |
| Vince Yockel | Men's Basketball | 1955-1958 |
1981
INDUCTEES
| Name | Sport / Emphasis | Years at Clemson |
| --- | --- | --- |
| Joe Net Berry | Football | 1934-1936 |
| R.G. Hamilton | Football | 1896 |
| John Heisman | Football | 1900-2003 |
| Dr. Lee Milford | Athletic Council Chairman | 1930-1954 |
| Choppy Patterson | Men's Basketball | 1959-1963 |
| Charlie Waters | Football | 1967-1969 |
| Harvey White | Football | 1957-1959 |
1980
INDUCTEES
| Name | Sport / Emphasis | Years at Clemson |
| --- | --- | --- |
| Doug Hoffman | Baseball & Men's Basketball | 1956-1959 |
| Bob Hudson | Football & Men's Track & Field | 1947-1951 |
| Harry Olszewski | Football | 1965-1967 |
| Suzie Owens | Football & Baseball | 1919-1921 |
| Red Ritchie | Administrator | 1966-1971 |
| Wyndie Wyndham | Football | 1948-1950 |
1979
INDUCTEES
| Name | Sport / Emphasis | Years at Clemson |
| --- | --- | --- |
| Shad Bryant | Football | 1937-1939 |
| Russell Dorn | Boxing | 1937-1938 |
| Bill Mathis | Football | 1957-1959 |
| Jess Neely | Football Coach & Athletic Director | 1931-1939 |
| Flint Rhem | Baseball | 1920-1923 |
| Harold Stowe | Baseaball | 1957-1959 |
1978
INDUCTEES
| name | sport / emphasis | years at clemson |
| --- | --- | --- |
| F.E. Armstrong | Football | 1918-1920 |
| Ty Cline | Baseball | 1959-1960 |
| Roger Collins | Track & Field & Men's Soccer | 1968-1970 |
| R.H. Fike | IPTAY President | 1934-1935 |
| Ray Matthews | Baseball & Football | 1947-1950 |
| O.K. Pressley | Football | 1926-1928 |
1977
INDUCTEES
| name | sport / emphasis | years at clemson |
| --- | --- | --- |
| Jackie Calvert | Football & Track & Field | 1948-1950 |
| George Fritts | Football & Track & Field | 1939-1942 |
| Frank Gillespie | Baseball, Football & Men's Basketball | 1943; 1946-1949 |
| Wallace Roy | Track & Field & Football | 1923-1926 |
| Hoke Sloan | Tennis Coach | 1930-1959 |
1976
INDUCTEES
| name | sport / emphasis | years at clemson |
| --- | --- | --- |
| John Dunkelberg | Track & Field | 1958-1960 |
| Bobby Gage | Football | 1945-1948 |
| P.B. Holtzendorff, III | Swimming & Diving & Men's Tennis | 1938-1941 |
| Bull Lightsey | Football | 1922; 1924-1925 |
| Herman McGee | Athletic Trainer | 1934-1980 |
| John Snee | Men's Basketball | 1948-1952 |
1975
INDUCTEES
| name | sport / emphasis | years at clemson |
| --- | --- | --- |
| Stumpy Banks | Football | 1915-1919 |
| Mac Folger | Football, Men's Track & Field | 1934-1936 |
| Mutt Gee | Football | 1914-1917 |
| Frank Jervey | Benefactor | 1914-1983 |
| Randy Mahaffey | Men's Basketball | 1964-1967 |
| Charles Woods, Jr. | Football | 1936-38 |
1974
INDUCTEES
| name | sport / emphasis | years at clemson |
| --- | --- | --- |
| Bob Jones | Basketball, Football Golf & Boxing Coach | 1927-1930 |
| Joe Landrum | Baseball | 1946-1947 |
| John Maxwell | Football | 1902-1903 |
| Rock Norman | Track, Football & Basketball Coach | 1940-1957 |
| Joel Wells | Football | 1954-1956 |
| Bill Yarborough | Men's Basketball | 1952-1957 |
1973
INDUCTEES
| name | sport / emphasis | years at clemson |
| --- | --- | --- |
| Joe Blalock | Football & Men's Basketball | 1939-1941 |
| Fred Cone | Football | 1948-1950 |
| Frank Howard | Football Coach & Athletic Director | 1931-1974 |
| Banks McFadden | Track & Field, Football & Men's Basketball | 1937-1940 |
| Billy O'Dell | Baseball | 1952-1954 |
| William Schilletter | Football | 1911-1914 |